Reading Time:
3
minutes
In this post I will show you how to do a basic installatoin of Citrix XenDesktop 7.6. I will be needing this to publish my desktops and applications. I will cover the configuration in another post, check back again for that. So for now let's start the setup.
In this post I will show you how to:
Basic installation of XenDesktop 7.6
My lab setup:
Host running Citrix XenServer 6.5 SP1.
Windows 2012 R2 server with patches and updates which I will be using to install XenDesktop Delivery Controller.
Downloaded PVS ISO from www.citrix.com
Install Citrix XenDesktop 7.6
Using XenCenter mount the ISO on the Windows 2012 Server VM and start the setup. The setup will start. Click on Start in the XenDesktop option: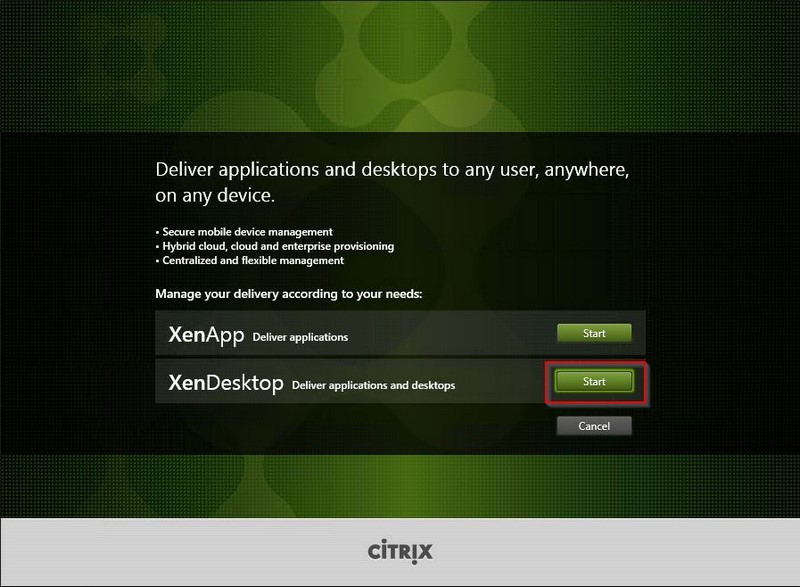 Click on Delivery Controller to start the setup.
Accept the License Agreement. Click on Next.
Select the components you want to install. I already have my setup license server. I will setup a dedicated StoreFront server, covered in another post. Click on Next.
I have a dedicated MS SQL Server running, so I won't install SQL Express. Click on Next.
Check the firewall port configuration. I left this default. Click on Next.
Check the summary window. Click on Install.
After the installation has finished you will get an overview. Click on Finish.
Citrix Studio will launch and from here you can start by configuring your XenDesktop infrastructure. I will cover this in another post, so please check back soon.
You can also follow me on twitter or add the rss feed from the blog and you will be notified when I add new posts.
(Visited 1,227 times, 1 visits today)